April 30, 2:30 pm EST.
The pictures of Iraqi prisoners abused and demeaned by their grinning American captors are making their way around the Arab world. The results are unsurprising. Check out this
freeper thread
; even some right-wingers are having trouble rationalizing this one away.
Some parts of this are still not being reported in the U.S. media (or not very much). Check this out
from the Guardian
:
Colonel Jill Morgenthaler, speaking for central command, told the Guardian: "One contractor was originally included with six soldiers, accused for his treatment of the prisoners, but we had no jurisdiction over him. It was left up to the contractor on how to deal with him."

She did not specify the accusation facing the contractor, but according to several sources with detailed knowledge of the case, he raped an Iraqi inmate in his mid-teens.

Col Morgenthaler said the charges against the six soldiers included "indecent acts, for ordering detainees to publicly masturbate; maltreatment, for non-physical abuse, piling inmates into nude pyramids and taking pictures of them nude; battery, for shoving and stepping on detainees; dereliction of duty; and conspiracy to maltreat detainees".

One of the soldiers, Staff Sgt Chip Frederick is accused of posing in a photograph sitting on top of a detainee, committing an indecent act and with assault for striking detainees - and ordering detainees to strike each other.
George Bush
defended
his "Mission Accomplished" speech one year ago during a courageous appearance on an aircraft carrier by saying,
A year ago, I did give the speech from the carrier saying we had achieved an important objective, accomplished a mission, which was the removal of Saddam Hussein.

And as a result, there are no longer torture chambers or rape rooms or mass graves in Iraq.
Except in Abu Ghraib and Fallujah.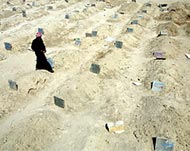 A Soccer Stadium Turned into a Mass Grave in Fallujah (Source: BBC)
I'm not trying to imply that the United States has done this on anything like the scale Saddam Hussein did. After all, it's only had a year -- Saddam had 35. And Saddam had the full support of the United States for his worst atrocities (war on Iran, Anfal campaign against the Kurds, suppression of the 1991 uprising); the poor United States has hardly any support at all.
Permalink